Nick Park
Part 1
© 2017 Mark Driver. All rights reserved
Flushing Meadows
When we reached our private box at the lowest tier of the massive stadium I playfully suggested these would protect us from the rabble of Helen's native New York. She smiled, gently tapping the side of my head, "Don't worry dearest. It'll be no worse than at Tower Bridge as night falls."
Helen eagerly settled into her chair and staged her 35 US dollar souvenir program which I calculated in my head while paying the vendor equaled a bit less than 30 British pounds, a lot for basically a glossy magazine format but with a slightly thicker cover page; her fizzy drink; and her pièce de résistance, a large, bready pretzel wrapped in paper, which was a shiny brown, baked composite coated with coarse salt, and accented by a thin film of yellow mustard Helen spread over it. I promised her if the riff raff of New York came through the barrier, I could chuck her pretzel at them.
Helen had always been a tennis lover and was an exemplary fan, applauding after every play, and, during the more tremendous gets, leaping up, and howling with delight. For me, the match didn't rouse me as much as did experiencing Helen's enthusiasm. I loved seeing her happy.
I've been a sort of cultural anthropologist, always drawn to observing the crowd at these matches. Helen called me "the watcher," my idiosyncrasy refined over the years as the head creative with an advertising agency in London. To know and indulge the public.
That's how I met my Helen, at the agency, designing a breakfast cereal campaign featuring US gold medal gymnast Helen Wozniak. The visuals included rings of cereal transforming into Olympic rings. That sort of thing. "Mmmmmm!! I can't tell you how good this is!" I fell for her right then, her mouth full of breakfast loops.
Helen priorities in retirement included attending the US Open, here at Flushing Meadows, New York City. She arranged for remarkably good seats, through her sports media connections. The tickets for this match were particularly coveted, highly ranked Andy Mulray taking on the dashing Spaniard Sebastiano Lopez.
The stadium filled up with fans anxious to see Mulray. There were generous applause as Lopez entered the stadium, quickly followed by a roar as Mulray joined behind. The two strode the sideline, and staged their gear. From our courtside seats I saw how each young man was amazingly fit. I was engrossed by their physiques. As they began knocking the ball back and forth at each other--backhands, forehands, serves, overhead smashes-- was impressed by their great strength coupled with their agility and coordination.
Helen was a loyal Mulray fan, yet immediately chittered how easy-on-the-eyes Lopez was. I noticed how many in the crowd were eyeing the Spaniard. From our vantage I made detailed inventory of his appearance. Golden afternoon sunlight accentuated a dramatic, greek god-like appearance, as if he stepped out of some Mary Renault novel. As a few in the crowd offered a wolf whistle I sensed his comportment of knowing he is quite handsome and happy to allow the Americans to soak it in. His subtle smile.
Lopez body formed a classic V shaped symmetry, upper torso narrowing from broad, square shoulders down to slim waist and hips. Muscular forearms. Solid biceps. Pliant tennis shorts caressed his rippling thighs, and did their best to leave somewhat to the imagination what appeared might be a generous gift from nature, that the man was quite well hung. I thought to myself, "of course he would be."
Each time Lopez hit an overhead stroke his shirt rode up his tan skin and the stria of his lower abdominals. A trail of dark hair ran downward from his navel into his waistband. Lopez' had quite a strapping back leading down to rock a hard perky butt. I expected many in the crowd would be happy to be draped across such a fine ass as that tennis shirt was. A chiseled face, piercing eyes, a beard trimmed close along his jawline. A cap contained thick brunette hair, with the cap's bill oriented towards the rear as young men tend to do with a cap.
"Such a looker John!" Helen turned and smiled, affectionately stroking my jaw line. "Just like you back when you were thirty. Nice dark hair. So handsome!" I smiled at Helen with a mawkish concern. "And still are sweety. You are! Very much so." Helen squeezed my hand and turned back toward the court, leaving her hand on mine.
I ultimately responded. "He is. Indeed."
Back home, I'd poured over tennis articles and became aware how Lopez famous looks were chronicled, one account even questioning whether such a stunning man had the right stuff to succeed in sport. "As if one had anything to do with the other," I'd thought to myself. The particular columnist even made a sideways comment how Lopez possibly prefered men over women, and at a minimum spent too much time looking in a mirror, fine tuning his appearance.
The Yanks weren't so punishing towards the Spaniard. They ventured that a classically handsome man like Sebastiano Lopez surely broke many hearts along the way, but they never expressed anxiety over it.
Play began. The beautiful Lopez covered the court well, staying with Mulray stroke for stroke, his shots rocketing deep into the corners. But Mulray eventually pulled ahead, taking the first two sets. The momentum of the match turned at the beginning of the third set. Lopez' fierce concentration and laser accuracy sent ball after ball passed Mulray. The crowd roared. Helen yowled her approval.
After one dramatic volley, Lopez leapt upwards, triumphantly shaking his fist, a magnificent, virile image. I visualized it in a television spot, perhaps for a dietary supplement, helping men maintain vigor, where Lopez had smashed an overhead winner, but instead of raising his victorious fist, he raised a bottle of male supplement from his tennis bag: 'I need this. You need this too.' Women all over the United Kingdom would rush to the chemist after seeing the Spaniard flashing his dimples on their television screen.
At match end, the gorgeous Lopez was vanquished. He met Mulray at net, their bodies drawing together, arms around the other, each speaking into the other's ear over the din. Lopez had pulled of his cap freeing his lovely locks. Mulray gave Lopez' hair a quick tousle and kissed his cheek. Lopez held Mulray's hand and gently kissed it, and then gave Mulray a quick kiss at the corner of his mouth. They smiled at each other, in a way that showed they were close. Mulray walked Lopez towards the Chair, keeping an affectionate arm around his friends shoulder, tenderly patting Lopez on his chest in a gracious consoling manner. I imagined at this point that troglodyte sports columnist taking furious notes regarding such malapropos affection between these athletes. "STEADY ON BOYS!!"
The thought incited my imagination to wonder why it should make any difference to anyone and in particular a sports journalist what might go on between these two or any two men. I imagined Lopez stripping off, all his kit on the floor. Exhausted. A shower of hot water hitting the back of his neck, head down in defeat, his naked, tired body. Soap running down his muscular chest, his abs, down to his hung cock. Mulray joining next to him, resting his soapy hands on Lopez shoulders, massaging his comrade in a comforting manner. Then Mulray moving directly in front, facing Lopez, foreheads resting against each other, the two peering directly into each other's eyes, Lopez letting the tip of his tongue lick the side of his mouth to beckon Mulray. And then Mulray slowly turning Lopez around, preparing to take his Spanish god one more time.
I chuckled at myself and sighed.
Telstar
Agency work honed my appreciation of male style and physique, but I'd always had an eye for male beauty and I appreciated male affection all the way back to public school days, back at Wardlow School. I believed that most men did, though never disclose it because of the attached stigma. I dabbled in male fun when I was younger. My approach aligned with what one brash young celebrity recently expressed, when you're young, why not try all the rides at the park? I expect many men wish they had, but resisted because of the way the world was about it.
I always accepted that part of me, mindful that my attraction to males was likely the outcome of some separate knob on my control panel you might say, while a whole other part of my system with it's own control knob, prompted my hetero attraction, like the day I fell for Helen.
The sort of enchantment for women that triggered in me was different than the dynamics of how I carried on with my male friends. With these male cases, I took an approach more akin to sport. A bit of fun. And by the time I married, I interrupted to a great extent any lustful thoughts whether for male or female, like one does when dedicated to another soul, especially one like my Helen.
As dusk settled, Helen and I strolled out of the stadium into the surrounding park. The unhurried walk was welcome. I held Helen's hand as we wandered along concentric pathways, with carefully manicured hedges and ornamental trees. We ultimately reached a point that afforded a view of a huge, illuminated object. Helen saw my reaction, my mouth opened, thoughts spinning. I was unsettled by it. Synapses were firing furiously.
"What John?"
Helen was about to confirm what I was looking at, but I interrupted. "Flushing Meadows was New York's World's Fair, back when I was a schoolboy!" Being a native, Helen knew that but had no reason to mentioned it. Why would she?
Far-flung memories continued surfacing. Kids at school reading fascinating accounts of the exhibitions; then hearing that Nick Park was going; and how happy I was when Nick came back from the States, the youthful milestones attached to that reunion. Mostly I remembered what he was to me. All we went through. .
The World's Fair was massive. A huge geodesic domed main pavilion housed a tribute to the departed Winston Churchill. There were dinosaur replicas that seemed built to scale. Fireworks lit the sky over the grounds every night. A mainframe computer incorporating character recognition technology interpreted calendar dates written by fairgoers. The computer printed an historical account from that date in history. All of it sounded thrilling to 13 year old schoolboys back at Wardlow School in 1965.
Helen smiled and patiently listened as I recounted these impressions from another time. I navigated our way directly up to the giant Unisphere, the iconic structure rising 140 feet, that was designed and built for the New York World's Fair. A modern re-installation of spotlights illuminated the structure and its fountains shooting majestic patterns in sync with music. A large crowd had gathered. Tennis fans. Locals. Foreign tourists. Families and couples. All were mesmerized by the magnificence of it.
We reached a crowd barrier in front of a pool encircling this great installation. I noticed two young fellows stood shoulder to shoulder near us. One a bit taller and brawny, the shorter one a rather sweet looking chap, although by the time one retires, all young people can seem a bit delightful. These two appeared to be Turkish or if not, then from somewhere in that part of the world. Their clothing fashion was of a modern European boy's style. Eventually I heard the taller one speak a bit of German. The shorter one didn't respond, but eventually I saw him slip his index finger across the palm of the other for a bit of back and forth. His companion put a stop to that, capturing the playful finger with a hard squeeze, accompanied by a severe look. The sweet shorter fellow looked down and away then. The taller one waited for a bit, then brought his friends hand to his lips and gently kissed it again and again. The shorter one looked up. They smiled at each other. When the brain releases chemicals that make a young fellow do crazy things, like kissing his mate in the middle of a large crowd. Love.
Two young women also noticed, looked at each other and emitted that happy, sing-song, whining noise that young women are apt to do these days when seeing something adorable. Haw-Uuh-Aawww!! Like the sound of a jungle crow, I thought.
Helen looked over to see about it. By then the short slender fellow's hand was back at his side, not comfortable with an audience response. More synapses fired in my head.
After repeating so many memories of 13 year old boys and this great exposition Helen exclaimed "John, you're a regular Mary Henner, how you remember all those things."
"Marilou. Her name was Marilou dear."
We'd seen Miss Henner on America's version appear of the Graham Norton Show. She is one of a handful of people capable of recalling what happened on any given calendar date of their life, and also is a well known American television actress. I found that to be an interesting combination of skill sets.
"John, I can't even cobble together her name from yesterday. You're recalling details of an exposition from decades ago is just incredible."
"My best friend Nick came here. That was huge, going all the way to America to see something so great."
Just then the Unisphere music system cycled to a hit from the 1960s called Telstar, a magnificent instrumental rock anthem by the Tornadoes, named after one of the three satellites represented in orbits around the Unisphere.
Helen was used to it, when I'd go quiet, gone away somewhere, like I did then, as Telstar trumpeted from from the speakers. My mouth opened slightly, eyes blinking, lost in thought. Nick Park loved this song. I'd blast it on my stereo speakers and parade my little Nicky down the hall on my back, to the sounds of Telstar, Nick thrashing his arms wildly, as if conducting some rock orchestra. Remembering how that felt...his body up on me…was always so nice. So warm.
I noticed the two young fellows, emboldened that the two jungle crow girls were no longer at hand, stood closer together. The taller chap surreptitiously slid his palm around his friends rump giving one of his cheeks a squeeze, then lowered his face and planted a kiss on his friend's cheek. I curled my free hand into a tight fist. My mouth became dry. The triumphant strains of Telstar carried on. Nick Park was here. I swallowed.
I ran my hand through my hair to the back of my neck. I thought about delaying our return, about changing plans. I took a deep breath and exhaled.
Helen slipped her arm in mine, and leaned against my shoulder. "You've never mentioned much of your school chums at Wardlow. Are there pictures in the attic? We'll get them out."
Helen patiently waited a bit longer. I gave my head a quick shake and smiled at her. "Shall we go?" The final triumphant strains of Telstar gave way to waning satellite sound effects the Tornados laid down on the track My jaw was clenched.
Nick Park's Bed
When Nick Park began joining us at the house, Mom and Dad delighted in the energy of our camaraderie. The Park's place was quite nice and large, all done up with hedge rows and a fountain in front. They were very wealthy. But Nick prefered holing up at our place. I visited his home only now and then. It was just Nick and his younger sister up there with Mr. and Mrs. Park..
Mom thought Nick was a gem. Dad also assured me how pleased he was with my choice in Nick, that he was such a pleasant lad. But Dad was wrong about one thing. Nick picked me. It was Nick that chose. I gladly accepted. It felt nice.
Nick filled a void after my older brother moved out of our house. I was inconsolable when Nick was gone to New York. At one point Mom looped her arm around and kissed me. "We relish our time with Nick, don't we John?" During that lonely stretch, I did have a self discovery that diverted the monotony, something I was quite excited to share with Nick as soon as he returned..
Nick's frequent postcards from New York City, announced how I was on his mind. One arrived from the famous Plaza Hotel, where the Parks were staying. It noted how the Beatles stayed there the prior year during their inaugural U.S. tour. Downstairs was the Oak Room that according to Nick served very delicious drinks, and would not allow women inside unless they arrived with their husband. Various other cards came such as one from a Broadway play called THE ODD COUPLE, starring famous American actor Walter Matthau. A series of amazing cards arrived from the World's Fair. Nick's final card from the Statue of Liberty announced he would see me as soon. That left a warm feeling in my stomach each time I re-read it.
Mom advised waiting for Nick to call me. Finally the second morning after the Park's returned our telephone rang. Mom trumpeted up the staircase, "John, here's Nick." I rushed down two steps at a time, leaping from the last four, one hand holding the oak balustrade cap. Swinging around at the bottom, my other hand intercepted the telephone from Mom. Nick called to invite me to stay the night over at the Park's.
When Dad dropped me off, Nick was waiting for me on the front terrace. I ran to him, so happy to see him again, excitedly asking why he waited so long to call, Nick smiled at me and shrugged his shoulders. "Let's go in."
After dinner we sprawled out and next to each other on the parlour floor. Nick handed me a World's Fair edition Slinky--the helical coil toy that walks itself down stair steps--packaged in a deluxe brown leather box with the Unisphere symbol imprinted on top. We raced to the staircase to prove it in. Eventually Mrs. Park summoned us back to the parlour.
Nick retrieved two small boxes containing matching World's Fair yo-yos, one for each of us. They came with a royal blue velour carrying bag with the Unisphere logo on the outside. Nick was already well practiced and was instructing me in the basic tricks he'd already mastered, until Mrs. Park gave a look over the top of her newspaper and suggested we play with them outside the next day, before my departure.
At bedtime, Mrs. Park proposed that Nick and I sleep apart this time, that I would find one of the guest bedrooms satisfactory. I had no reason to doubt that, but sleeping alone in the Park's sprawling home never appealed to me. Nick lodged a protest. Nick's Dad joined in, that we might as well stay in Nick's room. Mrs. Park relented, though neutral about it at best.
Nick grabbed my bag and we ran up. The weather was too hot for pajamas. Nick stripped off down to his underdrawers and climbed onto the bed. I quickly followed. We were on our backs, the bed sheet off of us. Nick and I were navigating puberty, exhibiting those aspects of adolescence: pubic hair growth, musculature, odors, sweat and so on. Underlying the physicality, my self awareness and emotional changes projected an undertone and stirred curiosities in me. There was a small excitement. This was the perfect moment to report my recent discovery while Nick was away. I'd brought myself to ejaculation.
Experiencing my first time felt amazing, and quite surprising. Fearing if I was peeing in my shorts, I leapt from the bed and charged into the bathroom. Afterwards and in the next days I tried to sort out what happened and even wondered if something had broken, caused by my vigorous handling. Those were innocent times.
Nick left the light on. We talked for a long while. I laid close to Nick, watching his body. He was a slip of a boy compared to me, yet he was becoming strong and wiry. I was larger boned with rounder musculature. A bit taller.
Nick weaved his fingers back through his golden locks and together behind his head, staring up at the ceiling, his chest rising and falling with each breath. There was a small amount of blonde hair sprouting in his arm pits. His bare legs were apart, pulling his underwear tight across his crotch.
Mrs. Park spoke at the door, ordering Nick to turn the lights off. Nick didn't respond. He turned onto his side, towards me, close enough to feel his breath. We stared at each other.
"Glad you're back."
Nick smiled back at me. "Me too."
When I thought he'd gone to sleep, I gave closer examination to his underwear, how it formed an impressive tent over his penis and scrotum. I wondered about his member, if he'd pulled on his just like I had been doing to mine, and whether he'd felt the release, like Heaven and Nirvana rolled into one, his white pudding shooting out. How fantastic if he had!
I carefully touched the white cotton fabric along where his penis appeared to be, and his member, running my index finger along the length of it, then on down to his balls. Nick roused a bit, but still appeared to be asleep.
I turned out the light and then stretched out until i felt my stomach brush against his arm. I began rubbing myself through my underdrawers, and quickly became erect. I wished Nick was awake I wished he was slipping my shorts down, pushing my hand out of the way to see what I was doing. I'd show him my erection, and the outcome it can produce with a bit of effort.
I drifted off then later realized Nick's wakened hand was stroking my hard cock. I was astonished and excited by the feeling of his gentle hand working on me. He kept pulling on me as we stared at each other. Nick could tell I was excited. I thrust my hips towards him to dispel any doubt whether I wanted his hand on me. As I got close, I moaned. I gasped as Nick finished me off. That amazing feeling happened again, like Heaven, but this time it was with Nick Park's hand on me, which invoked an erotic layer to the thrill of my climax. Brilliant!.
I could see Nick was smiling. We whispered.
"That's so amazing, Nick."
"I know John! It's amazing."
Nick waited for a bit. I felt his warm breath on me. He starting to say something. Then I heard him pull his underdrawers off. He reached out in the dark, touching my forearm. He was sticky, from the puddle I'd shot into his hand. Nick thrust his hips towards me and gently guided my hand down on him.
The Box
Muffled sounds persisted from up in the attic, boxes being slid off of shelves, set down and shuffled about. If not for the jet lag I would have poked my head up there to see what was going on. As it was I was nestled too comfortably in my Royams Cassandra recliner Helen bought me as a retirement gift. I continued with my television news, not pondering what Helen was finding up there.
Helen's exceptional gift, this chair, was the most comfortable furniture I'd ever sat in. I recommended when I die that Helen just dig a large hole out in the garden, and drop me and the chair in it. No sense in too much fuss when I'm gone. Helen assured me "Oh John! You're not going anywhere. Certainly not anytime soon." Helen kept me on a strict enough regime that and so was probably right. Helen herself was certainly built to last, always maintaining her feminine figure.
Later I woke to Helen's kiss on my forehead and a damp cloth dabbing at a bit of drool away from the corner of my mouth. The Royams Cassandra had that effect on me. Helen accomplished her mission in the attic. A storage box was neatly staged along with my stationery set, a notebook, some folders and so forth in case I wanted to organize and separate anything.
I recognized Mom's dramatic, handwriting on the outside of the box: "SCHOOL PICTURES-RECORDS-PROGRAMS-ETC." My Wardlow box. Mom insisted I save as much from Wardlow history as possible, that I'd be glad I did someday.
The last time I was into that box was before Helen and I married, when I was making out my portion of the guest list. I was looking at Wardlow classmates, in particular Nick. I'd been in contact with several during the time after Wardlow. Nick was out of touch for a few years by then.
Calling Nick's parents ran across my mind, though I hadn't seen them since 1965. I recalled the unpleasantness with Mrs. Park back then. There'd been a call from Mrs. Park, afterwhich Mom called me into Dad's study. She gave a warm hug, and Dad assuring me "we love you John, always." Mom followed with a big kiss on the cheek and smiled at me, her eyes a bit wet. "John, you have always been and will always be a treasure to me." Then she explained that Mrs. Park asked that I not call Nick, not come to their house, and not try to get in touch.
After the World's Fair homecoming sleep over at Nick's, Mom and Dad returned the favor. She prepared a special dinner for Nick's visit. On arrival Mom and Dad thanked Nick for sending the lovely post cards, which were displayed on the hall table. We huddled together while Nick reviewed each one with us. After dinner we all joined in our den to play Scrabble. Eventually Mom suggested Nick and I head upstairs and quiet down for the evening.
We climbed into my bed under the cotton sheet. Nick immediately launched into me with full force tickling attack across my ribs. I struck back. Tickling demanded an eye for an eye. We wrestled wildly. I was soon on top of him, making him pay. Nick laughed out loud, as he struggled against my counter-assault.
Mom must have wondered what was going on, as Nick cried out in agony at my rough touch. She called out from the bottom of the stairs. "Are you boys OK? Lights off now!"
We found Mom's questioning the hubbub going on in the bed tremendously funny, causing spasms of laughter. I rolled onto my back, trying to catch my breath and calm down, still leaving my hand resting on his chest, in case he attempted to move on me.
After relaxing for a few minutes, I turned off the light. In the dark we talked and talked about all kinds of odd concerns, the things boys talk about. Eventually I started gliding my hands up and down my bare chest and stomach and then down into my underdrawers, which was soon followed by those erotic, exciting feelings from stroking my hard cock, of Nick being there in bed with me as I stroked myself.
I reached for the torch in the bed table drawer, and switched it on under underneath the sheet, creating a silhouette of my hard cock in the light of the torch against the thin cotton sheet. Laying back I eased the sheet down to my waist and stopped. Nick was watching me. I slowly pushed the sheet further and further down. Then Nick promptly tossed his shorts in my face. He'd already had them off and was naked in the bed. I reached over to make sure, shining the torch on him, and running my hand along his hip and around to his inner thigh, feeling the back of my hand brush against the soft skin of his scrotum. Nick got up on his knees to show me. He was hard as a nail, cupping his scrotum with one hand. I got on my knees to face Nick, shining the torch downward first on Nick, then back on me. I ran my hand up and down the length of my penis. Then Nick pushed my hand away. He cupped my balls with one hand and stroked me with the other. I reached to feel Nick, while trying to keep the torch well aimed.
I lost track of the torch in my climax. I felt the spunk fly up and hit both of us. Nick whispered, "You hit me!"
I dropped my forehead down to Nick's shoulder, a grin on my face. "Oh yeah!"
Nick slipped the torch from by hand and whispered in my ear. "John use both hands on me." Nick aimed the torch perfectly. When he came, we could see his semen shooting upward. It shot all over me.
"Got you!"
Nick took his shorts and carefully wiped me off then hung the on the bed post. We both dropped down on our backs. I grabbed a cloth from the bed table drawer and cleaned Nick off. We pulled the sheet up, lying close together, touching at the elbows, and drifted off.
I planned for Nick to sleep over again the next week, but Nick's mother announced during the unpleasant conversation with Mom how that wasn't going to be allowed.
My mind went off in so many directions then. I was heartbroken, scared, confused, and wondering if I did something wrong, whether everyone now knew Nick and I masturbated together in bed, whether Nick was in trouble, whether Nick was still my friend, or angry with me.
I never had contact with the Mr. and Mrs. Parks after that. When my wedding was approaching I mentioned to Mom wanting to invite Nick. When I queried on it she explained the unfortunate things Mrs. Park had said about me back in 1965. Insisting on the detail of it, Mom admitted Mrs. Park believed I fancied Nick too much and was monopolizing him. She also claimed Nick had become too attached to me as well, that his personality had been affected. Mrs. Park cut me off from him. Mom refused to explain such ridiculous claims to her thirteen year old boy but still had to explain I couldn't see Nick for the rest of the summer until we were back at Wardlow.
What a confusing thing that would have been for a boy to hear. How could I fancy him too much? Nick Park was something to be fancied. I was too young to understand then what love was, yet thinking back, I did love my friend. He was irreplaceable. My heart was crushed.
Regarding the wedding, Mom speculated contacting the Parks was not be a good idea. Mom sensed how the Park's huge wealth played a part in their attitude, how they feared our financial status somehow colored our intentions. The Parks would have been surprised to learn how well off we were, that Mom and Dad were merely not willing to keep excessive furnishings and accessories. Mom and Dad wore reliable, sturdy clothes. Dad drove an aging sedan, the finish well faded, but always in reliable working condition. The Parks must have considered it a heap whenever seeing us arrive at their magnificent home. But Mom and Dad paid when it counted, like sending me to Wardlow, where the tuition was quite expensive. Mom's assumption about Nick's parents didn't surprise me, especially how their the trip to the World's Fair was a ploy to begin weaning us apart.
Nick kept crossing my mind when deciding on the wedding party, on what male assistants would send me into the blessed union. In a perfect world, Nick would have been my best man, but I finally had to admit that situation had long since disappeared.
In the end, I was able to track down several Wardlow classmates and four actually made it there, Colin Bright, Stanley Emerson, Ian Bartlett and Julian Trask.. My brother Seth served as best man. I felt terrible for not making a better effort to find Nick, and later learned how disappointed he was as well.
Wardlow Boys, Black and White
I denied reflecting much on Wardlow over the years, which was true, although one doesn't entirely forget some things. Doesn't every man have a Nick bottled up inside that's never talked about? I don't know. Perhaps not. I did.
"Come on John. Remember, you were a regular Mary Henner at the Unisphere. I want a John Kimbolton history lesson. Like they said at Elderhostel," Helen teased. "It's never too late for me to learn."
"Marylou, dear."
I smiled at her and lifted the flaps of the box lid, revealing a black and white photo of ten Wardlow boys, the choral society in my form. Helen and I scanned it.
"Oh John! There you are. Just darling. How happy and cute you were. The boys must have been mad for you. They all look so sweet, don't they?" Helen glanced at me when I didn't answer.
I shook my head and stared at it, hoping some other picture remained, one showing my Nicky, because his face was hidden back behind me in this one. "What kind of picture was this piece of chaos?" I thought to myself. Bunch of clowns, and not making room for a nice view of Nick. But honestly the picture was quite endearing if not for that tragic omission, these lads hamming for the camera. Ultimately I considered a piece of my history was lost, Nick standing near me that day. That figures. I hadn't been careful enough, had I? Someone I was so close to. A shame. Only the very top of his golden mop was captured. I sighed. Helen stood up, suggesting I carry on with the first look while she put the kettle on.
"Get busy John. Nap time is over." Helen kissed my cheek and headed downstairs.
I knew the hidden face had to be Nick He was a member and star performer of our form's choir. I found on the reverse Mom had listed all the names, confirming Nick was the phantom boy. She noted that her written order was the boys' order in the picture, left to right. First and last names were listed for all ten:
1 Colin Bright, 2. Algy Kennedy, 3. Nigel Otway, 4. William Carter, 5. Dick Aldridge, 6. Stanley Emerson, 7. Ian Bartlett, 8. John Kimbolton, 9. Nick Park -hidden- 10. Julian Trask.
Mr. Franz was our choir sponsor. He was also our music teacher, and may have held the camera. We were gathered behind the old music building. A car number plate in the window just to the left of Colin Bright's head reminded me of that. Mr. Franz left it haphazardly in that window, looking out from the storeroom.
There were stories about the origin of that number plate: off a car Vivien Leigh abandoned to Mr. Franz when she became a Hollywood star; or one driven by Churchill's mistress; or the most intriguing that it came off Mr. Franz lover's car, who was killed during a German air raid while driving towards Mr. Franz flat in London. He almost made it.
Mr. Franz never mentioned the true origin of the plate. "If I wanted people to know what that's doing there I'd tell them, wouldn't I?" Of course none of us knew whether Mr. Franz was really gay, or knew Vivian Leigh or Churchill's mistress, or if Churchill really had a mistress. But all of that was quite fascinating to a schoolboy, especially the part about the Blitz and the lover.
"Poor old queer," Julian Trask suggested after recounting the myth of the lover one more time, though I wasn't quite sure why Julian said that, because during the Blitz I guessed the lover would have been around twenty-five, so not old at all. Mr. Franz would have been young as well back then and by the time he was our teacher was certainly over the grief. So, the best I could determine, Julian meant how sad that Mr. Franz was old and queer, which didn't sound very compassionate, as much as an expression he'd heard, one that would certainly never be used by my parents. I didn't care for it. I liked Mr. Franz.
Though Colin Bright was not facing the camera directly in the shot, the picture caught his essence quite well. A strong young man, of course. He was a serious fellow, and rarely the judgmental sort. One could see he was observing the commotion, understanding the lawless behavior was our bit of fun.
Colin and I were always friendly playmates, and then grew closer at the Fall term back in 1965. It was first day of the term when he planted himself next to me on that concrete bench I'd slumped on. The recovery plan I'd worked out in my head to bring Nick back to my naive, aching heart, had crashed and burned to naught out in the middle of the quadrangle. Nick's parents withdrew him from Wardlow.
Colin was so easy to be friendly with, to smile with, chat with, play with, and everything. So I wasn't surprised that he planted himself next to me, and took time to listen and then to encourage me. "It'll be OK."
Brilliant. That was a gift most schoolboys didn't have. He was special, but I suppose I was always a soft touch as well. Colin ended up getting me to smile, and to promise I'd study maths with him after evening meal.
By the end of the first week back I'd found my footing. I was consumed less by losing Nick, thanks to Colin. He was soon keen on being best mates. We did more and more meals and studying together. Then we began exercising together. Colin planned to qualify for the rowing club one day and suggested I consider it. Colin planned reaching great heights with rowing.
It required strength in nearly all muscle groups so we assumed a general exercise and strength program would be helpful: push ups, pull ups, sit ups, and so on for strength, and running and swimming to help with endurance. We dedicated ourselves over the months and into the next years. I felt a new kind of strength and energy.
In time Colin's body appeared more and more mature especially by the next year. His musculature was amplified by the hard work, and I came to realize so was mine. On warmer days we swam at the lake, becoming well tanned. I watched the water glistening on Colin, and how the lines and curves of his body were no longer like a boy. With his swim trunks off in the changing tent I watched his sinewy butt, white like talcum in contrast to his tanned skin and the sprout of black pubic hair around his sturdy cock. That all fascinated me. Colin noticed my curiosity but never minded it. Boys can be a bit of an exibitionist and proud at that age.
Down at Cambridge
After Wardlow, Colin Bright was on college scholarship for rowing at Cambridge. He invited me down for a weekend, to join at his girlfriend Maggie's flat along with her older brother Chet. Chet had also been at Wardlow, two years ahead of our form. I never knew him then.
Chet feigned being a bit taken aback. "Really? I remember you John, gracing our fair Wardlow." Chet extended his hand. "We'll make up for that this weekend." We shared a warm handshake.
Chet and I hit it off so well that when the time came to go out to a disco, Colin recommended I stay on with Chet, that Colin and I would have other weekends to prowl the streets together. I supposed Colin also had designs on Maggie that evening, so that he ultimately might need to be rid of me for a time.
Chet and I strolled out for a pint and then a curry. On the way back he invited me to try a joint he'd brought along. I declined, having never attempted weed, and not sure if it was something I ever would. We stepped off the path into a park for privacy. I watched Chet light up his blunt, heard the faint crackle of burning paper and pot, and sucking of air and the plume of smoke into his mouth. The orange glow of the burning weed and cigarette paper illuminated his face in the darkness, which at that point I decided was quite a nice face.
"This is good stuff. You should try it."
Chet put his hand on my shoulder. "You'll be fine."
I wondered about the risks, about what could happen, as we had learned back at Wardlow. A life of crime. Insanity. Joining a cult. Yet Chet looked amazingly well adjusted and happy.
"John, I won't let anything happen to you."
"Are you sure?" asking in a way to let Chet know I was tempted.
"Just one hit so you can see about it. I'll help."
Chet suggested trying what was called a shotgun. "Just breathe in when I tell you."
After drawing a generous hit into his lungs, Chet brought his face very close to mine, putting his hands vertically on either cheek, pressing lightly so that my jaw hinged open, then brought his lips even closer to mine nearly touching. This uninvited masculine presence of an older boy--though we were not so much boys any longer-- his manly scent, tinged with a smell of curry, and marijuana ash, was erotic, exciting and fun all at once.
"Ready?" Chet squeaked, still holding in a great plume of pot smoke in his lungs. As he blew out, I inhaled.
Chet kept his hands clasped on my cheeks while advising me to keep it in. He eventually slid his palm gently from my face and placed them on my shoulders. "Whenever you're ready."
I felt his upper lip graze my mouth as he spoke. As my shotgun of pot smoke released up into the night air, I realized Chet's hips had moved into me or mine into him, because I had an erection and felt my cock quiver against him.
I knew he felt it. How could you miss that stiff cock through our soft dungarees? And I didn't miss how his ample member was pressing against me, though he certainly was not hard like I was, just large. I was a bit embarrassed, a bit dizzy and a bit stunned from what just happened, and soon I was feeling a bit stoned. I lowered my head not knowing what to think or what Chet must be thinking about me.
"Are you OK John?"
I looked up. Chet was regarding me, a somewhat concerned but pleased looking, because he knew that I was…..OK.
.
Chet placed his arm around my shoulders. We walked onward into the evening air, carrying on about nothing in particular, except that soon everything in particular seemed ridiculously funny. Laughter ensued for much of the rest of our walk. .
Eventually we made our way back to Maggy's room where Chet pulled a bottle of 25 year old Glen Grant whiskey out of his travel case.
"Are you stoned John? I think you're a little bit stoned man."
Maybe it was the way he said it, or the way he was smiling at me, or the cap he wore which now seemed quite silly to me, or that yes I was slightly high, because the question made me laugh again the way I'd laughed at most everything else we'd talked about since the shotgun. I nodded my head. "I think so."
Chet poured me a very small splash of whiskey. He opted for a couple of fingers for himself. We raised our glasses to each other, to us getting high as a kite.
"That smoothed things over nicely, didn't it?"
I couldn't argue with that. We relaxed next to each other on the couch.
"Just the right amount of curry, pot, whiskey, and Chet."
Chet laughed at me. "You are fucking stoned man. So you've had the right amount of Chet?"
I nodded my head to reconfirm. "Yes Chet. I'm pretty sure." I leaned my shoulder into his. My knee was cuddled against his thigh.
Chet abruptly decided it was late and invited me to stretch out on the guest bed. I shouldn't have gotten that cozy with him on the couch I guessed, and so I expected our fun had ended for the night. I stripped off my clothes, folding them neatly and laying them on my boots, then crawled in. Chet slipped in too, facing me. After a minute he pressed the heel of his hand on my forehead to bring my eyes in line with him.
"What are you thinking about?"
"Nothing."
"So you don't remember me huh? I sure remember you John."
Chet eased over next to me. I was happy he'd not gone off of me after my being too familiar with him on the couch or from my hard cock poking against him in the park. His sleek hard body felt quite acceptable. Chet put his mouth close to my face again. I could smell his cologne, not much, just a perfect amount.
"You're fetching, John."
"I like you too Chet." I did like Chet quite a bit but was slightly unsure what he had in mind just now. That mystery was answered when his hands began exploring all over and under me.
"I want to fuck you John."
"Yeah?"
"Yeah, I really do want to. But...not if you're too drunk and stoned."
"Oh."
Chet raised up on one elbow and watched me. He began stroking my back. I gazed back at him. I didn't want him to stop doing that to my back, and he probably knew it by the way I was staring at him. The sensation of his fingertips on the skin of my back...I'd never had anyone do that to me before. John kept on for quite awhile, much longer than if he was merely intending to seduce me with his lovely strokes, as if he enjoyed that he was able to bring me that much pleasure. That or he was just an amazingly patient fellow.
"But if you're not too stoned, then yeah, I would."
"So you want to….fuck me?"
"You want me to?"
Maybe it was the pot, or maybe it was being away in some other town or maybe it was just the nice feel of this chap's body rubbing against me…..I wanted to try this.
"Yeah."
Chet whispered in my ear. "You want to stop, just say so John. Will you do that?."
I nodded.
Chet was incredibly gentle. Once inside me he continued making sure all was going well for me. He had waited and waited for what seemed like 20 minutes to completely slide his cock all the way in. After Chet's cock was full in he raised up his torso now and then, nudging me forward with his rock hard cock. There was some pain but mostly immense pleasure.
Chet followed a smooth, slow pistoning motion. Later he reached around and underneath to pleasure me. I felt like a wild animal, moaning and grimacing. Climaxing with a cock in me was beyond any pleasure I'd felt before. After Chet felt my wetness in his hand, he increased his frequency and soon he shot his puddle in me.
Chet collapsed on top. A great sigh rushed out of him. "Oh God John. That was fun."
"Mmmmm….yeah."
It was fun for me, definitely. But my mind had left by then. I thought about Nick, how we should have tried this. I wanted to do this to Nick. I wished I was with him right then, and not with Chet.
"You OK John?"
The next morning when Chet and I were clearing out, Colin must have surmised the gist of what went on the night before by the state of the bed and the telling lack of banter but mostly grins between Chet and me.
At the door, Chet ran his hand along my jawline. "You're spiffy mate. So…...I'm off then."
I stayed on for a minute to bond with Colin. Later I wondered why he'd invited down with Chet there, but didn't think to long on it. As we parted that morning John pulled me to him and hugged me hard. "John you are always welcome. You know that?" Colin captured my shoulders with firm hands and looked me straight on. "Always, John."
Photo Inventory
Helen came in with a tray and poured our tea. She staged the tea and sandwiches. "Where are we at dear? Do you remember everyone in the picture? "
I bit into a sandwich.
"Tell me who these handsome boys are John."
I continued scanning the same photo.
"This one is Colin Bright. We always receive a Christmas card from his family in Cambridge. He's in the athletic college. We send to them as well."
"Oh my of course, John. I remember him."
"It's OK Helen."
"No. John. I remember. I spoke to Colin at the wedding."
"And these next two are Algy and Nigel. They were a pair. Both in the choir. Both in the chess club. Audio visual team."
"John, they seem like two amusing chaps."
"Sometimes I wondered if they hid out in the meeting hall projector room, got stoned and…"
Helen lowered her eyebrows at me and smiled. "And what John?"
"Oh, it's just that sometimes they'd emerge, giggling and snarking. Who knows, Helen."
"Oh John. I'm sure not. They look so innocent. Like angels. All of you look like angels."
"We weren't. Not always."
"So there's Colin, Algy and Nigel. Very nice. Colin is in Cambridge. Where are Algy and Nigel? I know they didn't come to the wedding."
I never heard from them again. They were always in their own little world, a sort of AV clique. I always wondered how the AV team was even chosen. A bit of jealousy there I suppose. There was never a sign up sheet. The assignment came with an air of privilege. They had special keys to various rooms and halls. They were in and out of storage areas, retrieving projectors, extension cords, speakers and so on. The staff relied on them and never questioned what they were up to."
Helen sipped on her tea and grinned. "They probably had a secret handshake."
"Secret handshake? Why would you say that?"
"No reason It's just a thing. Nothing. You're chuckling."
"At the wedding, I asked Julian Trask about them and he said they were probably working together as secret agents for MI6 with special AV headphones for listening in on our telephone calls, that they'd probably listened to all of Nick and my…"
"Secrets? Were you up to something? Which one is Nick? " Helen teased. "John, he's your World's Fair mate."
"Oh, no. Julian was being daft after too many drinks, I'm sure."
"But John, what about you and Nick? Which one is he?"
"We'll get there. We'll get there."
"So this next one is William Carter. You've heard of him, Helen."
"You mean THE William Carter? Good gracious, it is! You knew William Carter!"
"I did. I even performed Romeo and Juliet with him in drama class. I was in drama society with William."
"Oh John! Why have we waited all these years to get into this box?"
"Yes."
"So tell me about it. Did you stay in touch?"
I had to think for a while to remember. I was never interested or even gave thought to Wardlow's drama society, until the faculty sponsor Mr. Sand suggested I had the look for it. Other students talked about how his dramatic methods were quite unorthodox. Perhaps that was part of why William succeeded. Mr. Sand certainly made doing plays interesting.
Of course William Carter was his star. No one was surprised he went on to attend the Royal Academy of Dramatic Art and later to star in cinema productions from Merchant Ivory to West End theater shows.
"He invested everything into it, and so he came off as a bit distant towards anything and anyone outside of the drama society. People think that actors are empty headed, pretty people, but that's wrong, at least about the great ones. William was quite a clever, brilliant fellow. Certainly he had the look. But looks only go so far, I imagine. You've got to be quite creative and intelligent."
I recalled Mr. Sand was a stickler, especially concerning Shakespeare, drilling us with acting theory and on performing the Bard, to the extent he expected we had no other interests or classes needing our attention. To give balance to all the rigor of it, Mr. Sand would assign a day now and then for a bit of fun called BAD SHAKESPEARE DAY, where we were allowed to dress and put on airs and affect, whatever degree we were willing to risk, because I suppose Mr. Sand believed that great acting involved great risks as well. The only rules were Mr. Sand would assign us the scene.
He assigned William and I to perform lines from Romeo and Juliet Act I Scene 5 which included the star crossed lovers' famous sonnet and first kisses. Mr. Sand cast William to play Juliet, and me his--or her-- Romeo. William insisted on rehearsing over and over to assure all was perfect...the staging, our costumes, and any other BAD SHAKESPEARE images we could muster.
I was cast as James Dean with the bad boy American accent, donning a white T-shirt, jeans, hair slicked back, black boots, a small piece of gum to chew on. William would be Mary Poppins with umbrella, cockney accent, and all that. We even considered finding a way to drop Juliet down from above as Romeo launched into "WHAT LADY'S THAT…" but had to settle for Juliet appearing at the classroom window, tapping on it with her umbrella, thus getting Romeo's attention. "DID MY HEART LOVE TILL NOW…..?"
William insisted on following through everything in rehearsals including our star crossed kissing. I had no problem with that, and found William's lips very tender and comfortable for as many times as he needed us to practice.
I never understood how it all turned out that day. Mr. Sand called it brilliant. Instead of the window and Mary Poppins, William poked his head in from the hallway. He wore large, round sunglasses, a medium length dark wig and an oversize silk floral headscarf, tied around the wig and down under his chin. He held his hand towards me through the doorway. I quickly aligned with his surprise improvisation, Jacqueline Kennedy Onassis, and led my Juliet into class "....WITH MY UNWORTHIEST HAND."
William grabbed my hand and took my fingers, rubbing them back and forth across his breast, giving quite brilliant Jackie O. voice "YOU DO WRONG YOUR HAND TOO MUCH," then gave two quick and severe slaps to the back of my hand, and flung it away from him. William carried on from there in a way that left me in such a state. I feared breaking into giggles.
Romeo ultimately gave Juliet a sultry James Dean smack on the lips. But come the second kiss--...OH TRESSPASS SWEETLY URGED, GIVE ME MY SIN AGAIN…", William raised his index finger and wagged it at me, advising Romeo to hit the brakes. Then William took off his sunglasses and tossed them to Mr. Sand. He ripped of his scarf and wig and slammed them down onto the floor. William took hold of my hair and tilted my head backwards, planting a vigorous, sensual wet kiss on my mouth.
The class erupted. Mr. Sand shouted "bravo." William smiled at me, raised his eyebrows and shrugged. We joined hands and bowed to the class.
Such a fellow. Imagine if that had been captured on video like everything is today. I'd be on the internet now, my 15 minutes of fame.
"Oh John. It's too bad you haven't been in touch."
"There was talk he stayed in touch with Mr. Sand. But, you know, sometimes people just move on to the next part of life. The past is the past." I sighed.
"Still we can always treasure these wonderful memories." Helen kissed me on the cheek.
Debate Society
"The next two in the photographs were Dick Aldridge and Stanley Emerson. Besides the choral society they were also with me on Debate team, along with this fellow on the end, Julian Trask. And Nick."
"Yes. Oh Julian. Of course. So which one is Nick?"
"He is directly behind. The one with the hidden face."
I saved some of our debate card file, and handed them to Helen for a look. Then I found a photo of just Nick and me, taken after graduation ceremony. Nick was holding onto me and smiling, but perhaps a bit sad that our Wardlow days were finished. I handed it to Helen.
"Oh John. Very nice."
"He was quite a fellow, Helen."
"John, he loved you alot I think, looking at this picture."
I nodded my head, but didn't say anything about that.
"So Nick was on the debate team with Colin and me. I was captain of our side. Julian was captain of the opposing side."
"Who is Lord Dunceton?"
Helen was sorting through the debate cards.
"Oh that is just an extemporaneous comment added in protest. Not part of their original argument."
"Looks like your handwriting."
"Yes."
"What was the resolution?"
"We were debating recriminalization of homosexuality. That was a hot topic back them."
"John, for schoolboys? A bit heavy."
"It was very heavy."
That card was from the Earl of Dodley from Stafford in the West Midlands, his argument in the House of Lords debate. Helen read the debate card aloud.
'I cannot stand homosexuals. They are the most disgusting people of the world. I loathe all homosexuals. Each one. Prison is too good a place for them. These sexual criminals with their sordid, wicked behavior must suffer the consequences if they refuse to abide by these very few, simple laws.'
"Julian Trask insisted on using it, although I demanded he remove the card as it did not comply to debating protocol. He used it anyway in the first session. Colin and I were ready to take him outside and take turns having a go at him."
Helen read from another card. "James Pratt, 30 years old, his public hanging in 1825 was punishment. Accused of having consensual gay sex in private."
"John, oh dear!"
"The police were still harassing men well into our lifetimes Helen. Men were arrested and dragged into court if the cops found only one bed was being made up in a shared home. Our main argument was how this was a victimless crime, so not a crime at all."
I remembered how Julian Trask was adamant, that no matter how inhumane the punishment might seem, Pratt's death was God's will and was the will of the Crown. These were criminals that knew the consequences of their choices. Julian claimed if we were to throw out our faith in God's written word, and ignore our loyalty to the Crown and the rule of law, then we'd be left with chaos and a total breakdown of society followed by takeover by the Communists.
I looked at Helen and shook my head. "What rubbish!"
Dad was pretty clear how he felt about all the bother with Christians, how they rarely acted much like Christians. 'Not to mention never acting like Jesus.' Mom would chime in.
"Helen, a thirty year old man was hung in public by our justice system for what? Men's lives were still being ruined back then in my lifetime for what? What crime? "
"I know sweety. This was way to heavy for boys. It's too heavy even now." Helen scratched the back of my head.
"I thought about Sebastiano Lopez, the same age as James Pratt. How some bitter zealot like that sports columnist not liking a man's pretty looks might begin a vendetta that in 1825 could end in being dragged out of your house, sentenced and hung in public. How so many police agendas resulted in men being sent to prison since Pratt."
I thought to myself about Nick hearing such unadulterated bigotry from Julian Trask, how a boy might believe in it and actually learn to hate themselves and accept such punishments. My eyes were wet then. Helen saw it. I thought more about Nick and all the poor men. I put my hand over my mouth. I started crying.
"I'm not even sure why I'm crying, Helen."
Helen continued scratching the back of my head and neck. "That's part of how you are so human, why you've always been so special to me and to all of your friends."
I looked at Helen and then back at the picture of me and Nick.
This story is part of the 2017 writing challenge, "Inpsired By A Picture: Black and White Boys" and is a multi-chapter story. Please read all chapters and offer a rating at the end, if reading within the rating period of 11 Marh to 1 April 2017. Otherwise please just enjoy the story. The arrow just up there and to the right leads to the next chapter. The picture used for inspiration is below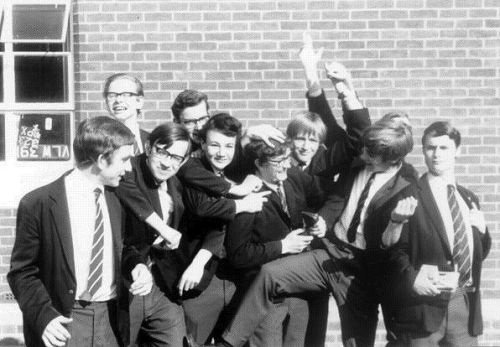 1 Colin Bright, 2. Algy Kennedy, 3. Nigel Otway, 4. William Carter, 5. Dick Aldridge, 6. Stanley Emerson, 7. Ian Bartlett, 8. John Kimbolton, 9. Nick Park -hidden- 10. Julian Trask.
Authors deserve your feedback. It's the only payment they get. If you go to the top of the page you will find the author's name. Click that and you can email the author easily.* Please take a few moments, if you liked the story, to say so.
[For those who use webmail, or whose regular email client opens when they want to use webmail instead: Please right click the author's name. A menu will open in which you can copy the email address (it goes directly to your clipboard without having the courtesy of mentioning that to you) to paste into your webmail system (Hotmail, Gmail, Yahoo etc). Each browser is subtly different, each Webmail system is different, or we'd give fuller instructions here. We trust you to know how to use your own system. Note: If the email address pastes or arrives with %40 in the middle, replace that weird set of characters with an @ sign.]
* Some browsers may require a right click instead